What do strychnine, brandy and five eggs have in common?  According to Thomas Hicks, the winner of the 1904 Olympic marathon, these are the essential ingredients needed to be a champion (1). While these substances may seem unlikely to increase athletic ability, this is just one example of the extremes that some athletes will go to in order to succeed.
Since the beginning of organized competitive sport, professional athletes have experimented with ways to enhance their natural athletic potential. Even the Olympic creed enforces that desire:  Faster. Higher. Stronger. However, there is a thin line between the development of natural potential and the athletic potential that can only be reached through the use of performance enhancing substances (PES). Now, in the background of every international competition, there is another race, between the 'dopers' and the 'testers', to see who will be identified as using PES and who will not.
In 1999, the World Anti-Doping Agency (WADA) was formed to assist sport organizers in combatting this problem (2). Funded by the International Olympic Committee and national governments, their mission is to lead the campaign against doping. They are responsible for publishing the World Anti-Doping Code, which includes the Prohibited List and the International Standards for testing and laboratory procedures (3).
The Prohibited List, as its title implies, is a list of all substances and methods whose use is not allowed by athletes in competition (4). Published annually, this list can be categorized into substances that enhance muscle growth (testosterone and other anabolic-androgenic steroids (AAS) and cellular development (erythropoietin and growth hormones) or are used to mask the presence of the PES (diuretics). However, of all the substances included on this list, 60% of the reported adverse analytical findings were attributed to the use of anabolic, or muscle stimulating, agents (5).
Testosterone and AAS are androgens, sex steroids that have anabolic (muscle development) and androgenic (masculinizing) effects. In normal physiology, androgen and estrogen, also a sex steroid, are the hormones responsible for the development of sexual organs and secondary sexual characteristics.  Males and females contain both androgens and estrogens but differ in the amounts of each hormone that are produced.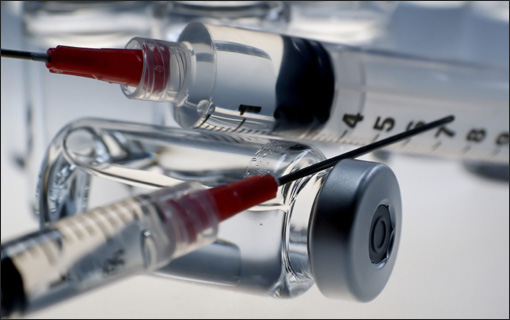 Sex steroids exhibit their control on cellular development through the regulation of gene expression.  Androgen and estrogen diffuse into a cell and bind to androgen and estrogen receptors that are circulating in the cell's cytoplasm (Figure 2). Upon binding, the steroid receptor goes through a conformational change that transforms it from an inactive to an activated state (6). The receptor/hormone complex then migrates into the nucleus and binds to DNA at specific DNA sequences, estrogen (EREs) and androgen response (AREs) elements, located in genes whose expression is affected by treatment with sex steroids (7). These genes are then transcribed and translated into proteins that affect cell growth and development.
In the context of doping, athletes take advantage of the normal physiological properties of androgenic hormones. For example, testosterone has been shown to stimulate muscle mass (8), reduce body fat (9) and increase the levels of aggression. By artificially increasing the amount of circulating testosterone in their bodies, athleteswho engage in doping are attempting to enhance the anabolic properties of testosterone while reducing its androgenic properties
Use of exogenous testosterone
One way that athletes abuse anabolic agents is to use testosterone from an exogenous (outside) source. Laboratories test for exogenous testosterone by comparing the ratio of testosterone to epitestosterone, a steroid hormone with no anabolic activity, in urine samples.12  This is known as the T/E ratio. Testosterone and epitestosterone are normally present in equal amounts at a 1:1 ratio; the presence of exogenous testosterone alters that ratio. WADA specifies that an athlete with a urine sample with a T/E ratio greater than 4:1 be investigated further (10). In addition, WADA added epitestosterone to its Prohibited List when athletes started using it, along with testosterone, to equilibrate their T/E ratio.
Use of testosterone derivatives
Athletes engaged in doping may attempt to use synthetic testosterone derivatives that contain various chemical alterations to prevent rapid metabolism (11). These derivatives are all based on the basic molecular backbone of testosterone and are classified into three categories (Figure 3). Class A steroids, due to 17-b-hydroxy testosterone esters, are more soluble in lipids (fats) and require intramuscular injections. Class B and C steroids are compounds that can be taken orally due to alkylation at the 17-a-hydroxy position or alkylation in the A, B, or C rings, respectively, of the testosterone backbone (12).
Testosterone derivatives are easy to detect in urine samples. The breakdown products created during metabolic processing of these derivatives are not normally present in the body and are an obvious indicator of doping.  In addition, some of the long-acting AAS, such as nandrolone, can be detected for up to 6 months after use (13).
Use of compounds that indirectly modify testosterone levels
Some athletes engaged in doping may use compounds that are involved in the modification of pathways surrounding testosterone production, thus, indirectly, affecting the level of testosterone in the body. Estrogen is actually derived from testosterone through the activity of aromatase (14), an enzyme that irreversibly converts testosterone to estrogen. Use of an aromatase inhibitor, such as anatrozole, inhibits this conversion, allowing more of the available testosterone to remain intact.
Selective androgen receptor modulators (SARMs) were developed as a means to separate the anabolic effects from the androgenic effects of AAS in order to prevent damage to the prostate in elderly men. SARMs were added to the Prohibited List in 2008 due to their anabolic qualities and potential for abuse. Most of the SARMs that are on the market can be detected in urine samples.
Negative implications of using AAS

When an athlete artificially increases the amount of testosterone in the body, they are disrupting the normal hormonal feedback loop that is necessary for several body functions. Although much is known about steroid hormonal regulation, many of testosterone's effects on the body are unknown because androgen receptors are expressed in various tissues..
Acute effects from testosterone doping can include fluid retention, gastrointestinal irritation, oily skin, jaundice, menstrual abnormalities, hypertension and infections at the injection site. Interestingly, males using high doses of AAS can have circulating estrogen levels typical of women during a normal menstrual cycle, leading to breast pain in men (15).
Due to the nature of hormone receptor signaling, testosterone use does not produce instantaneous results. Athletes who engage in testosterone doping follow a regimen of long-time use, thus, increasing their chances of developing irreversible adverse affects. Some of these chronic effects include breast development (gynecomastia) in men, loss of scalp hair in women, and increased levels of LDL cholesterol leading to atherosclerosis and cardiomyopathy. 15
The long-term adverse effects of AAS use can be seen in studies of athletes from the former East Germany. During 1960 to 1980, East German athletes were exposed to systematic doping regimens with many athletes being drugged without their knowledge, including young female athletes (16). Many now suffer from cancer, epilepsy, metabolic diseases and sudden inflammatory episodes. These detrimental effects have even been transferred to the next generation; children of doped athletes exhibit asthma, allergies and crippled feet or legs at higher incidence rates than the normal population (17).
Occurrence of doping
Despite the health risks, the misuse of testosterone, and doping in general, is still prevalent in the athletic community. To prevent doping athletes from competing, WADA estimated that the London 2012 Anti-Doping Laboratory would analyze 6,250 samples and test one out of every three athletes, including all of the medal winners (18). If caught, athletes who violate any of the rules of 2012 Olympics Anti-Doping Code would be subject to immediate disqualification with forfeiture of any acquired medals or prizes and could be deemed ineligible for future Olympic competitions (19). This punishment was recently evident in the case of Nadzeya Ostapchuk, a shot put athlete from Belarus, who tested positive for metenolone before and after her event. The International Olympic Committee disqualified her and withdrew her gold medal (20).
Based on the immensity of WADA's response in preparing for the 2012 Olympics, WADA still believes doping to be a formidable issue in organized sports. Even though WADA was created to guarantee equality in sport, its mission is also to support and encourage the health of athletes and the public. 3 Hopefully, WADA will be able to convince athletes and the public that the use of performance enhancing substances is not worth the risks.
By: Kirstin Roundy, University of Utah
Kirstin Roundy holds a M.S. in Laboratory Medicine and Biomedical Science from the University of Utah. She spent 14 years working as a biomedical researcher studying the gene regulation in B cell development. She enjoys acquiring knowledge and takes random, non-credit classes just so she can learn something new. Her favorite sport is soccer.
References:
1. Jones, D.S. 2012. Olympic Medicine. New England Journal of Medicine 367:289-92.
2. Bowers, L.D. 2009. The international antidoping system and why it works. Clin Chem
55:1456–61.
3. World Anti-Doping Agency. (2012). Sport Physicians Tool Kit. Retrieved from
http://www.wada-ama.org/en/Education-Awareness/Tools/For-Sport-Physicians
4. World Anti-Doping Agency. (2012). The 2012 Prohibited List. Retrieved from
  http://www.wada-ama.org/en/Science-Medicine/Prohibited-List
5. World Anti-Doping Agency. (2010). Adverse Analytical Findings and Atypical Findings,            
Reported by Accredited Laboratories. Retrieved from
http://www.wada-ama.org/en/Science-Medicine/Anti-Doping-Laboratories/Laboratory-Statistics
6. Saxena, N.K. & D. Sharma. 2010. Epigenetic reactivation of estrogen receptor: promising
tools for restoring response to endocrine therapy. Mol Cell Pharmacol. 2: 191–202.
7. Deroo, B.J. & K.S. Korach. 2006. Estrogen receptors and human disease. J Clin Invest. 116:5 61-70.
8. Storer, T.W., L. Magliano, L. Woodhouse, M.L. Lee, C. Dzekov, J. Dzekov, R. Casaburi,
& S. Bhasin. 2003. Testosterone dose-dependently increases maximal voluntary strength
and leg power, but does not affect fatigability or specific tension. J Clin Endocrinol
Metab. 88: 1478–85.
9. Bhasin, S., T.W. Storer, A.B. Singh, L. Woodhouse, R. Singh, J. Artaza, W.E. Taylor, I. Sinha-
Hikim, R. Jasuja, & N. Gonzalez-Cadavid. 2004. Testosterone effects on the skeletal
muscle. Pages 255-282 in E. Nieschlage and H.M. Behre, H.M. editors. Testosterone: action, deficiency,
substitution, 3rd ed. Cambridge University Press, Cambridge, UK.
10. Thevis, M., T. Kuuranne, H. Geyer, & W. Schänzer. 2012. Annual banned-substance review:
analytical approaches in human sports drug testing. Drug Test Anal. 4:2–16.
11. Shahidi, N.T. 2001. A review of the chemistry, biological action, and clinical applications of
anabolic-androgenic steroids. Clin Ther.  23: 1355-90.
12. van Amsterdam, J., A. Opperhuizen, & F. Hartgens.  2010. Adverse health effects of anabolic–
androgenic steroids. Regul Toxicol Pharmacol. 57:117–123.
13. Bagchus, W.M., J.M. Smeets, H.A. Verheul, S.M. De Jager-Van Der Veen, A. Port, & T.
Geurts. 2005. Pharmacokinetic evaluation of three different intramuscular doses of
nandrolone decanoate: analysis of serum and urine samples in healthy men. J. Clin.
Endocrinol. Metab. 90:2624–30.
14. Kicman, A.T. 2008. Pharmacology of anabolic steroids. Br J Pharmacol. 154:502–21.
15. Wilson, J.D. 1988. Androgen abuse by athletes. Endocr. Rev. 9:181–99.
16. Franke, W. & B. Berendonk. 1997. Hormonal doping and androgenization of athletes: A secret program of the German Democratic Republic government. Clin Chem 43:1262-79.
17. World Anti-Doping Agency. (2012). Sport Physicians Tool Kit. Retrieved from
http://www.wada-ama.org/en/Education-Awareness/Tools/For-Sport-Physicians
18. World Anti-Doping Agency. (2012).  Play True. Retrieved from
http://www.wada-ama.org/en/Media-Center/Events/WADA-at-2012-Olympic-Games
19. International Olympic Committee. (2012).  Anti-Doping Rules. Retrieved from
http://www.olympic.org/fight-against-doping/documents-reports-studies-publications
20. Olympic News. (2012). IOC withdraws gold medal from shot put athlete Nadzeya Ostapchuk.
Retrieved from http://www.olympic.org/news/ioc-withdraws-gold-medal-from-shot-put-athlete-nadzeya-ostapchuk/172684